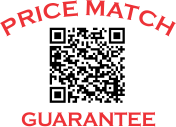 We want to be your Supplier and we will do what it takes to make it happen!!! We Guarantee to TRY and MEET or BEAT any competitorís price.
Our commitment to you, our customer, is to provide superior products at the lowest possible prices. Because of this commitment, Labelsig.com will try to beat or meet our competitorís price wherever we can. If youíve found a legitimate competitor with a lower price on†Thermal Transfer Labels, Thermal Tranfer Ribbons, Thermal Transfer Printers (Avery, Zebra, Intermec, Datamax, Sato), Scanners, Verifiers, Printer Parts and Accessories, RFID labels and Tags or any item we sell, we want to know about it. Not only do we want to know, we want the chance to try and drop our price and beat or meet the competitorís price in order to earn your business.
To have us attempt to beat or meet a competitorís price, you can either email, call or fax us the competitorís published price.†An even simpler method is to use the link under the products price. This link will be available under the products price when viewing a product in the store. Upon verification, we will review our price and attempt to beat or meet that one.
Specifics of Verification:
Item must be the same spec and quality product we carry.
Competitor must have equivalent item in stock and available for immediate shipment.
Competitors must be located within the US.
Prices must be documented and publicly advertised at the time of purchase. A currently active web site URL displaying the item and price is preferred.
In some cases, you may be asked to provide the competitors phone number and name of the sales person who gave you the price. In short, we must be able to call and order the same product at the same price you quoted.
99% of the time we usually either match the price or beat it, unfortunately in some cases we may not be able to meet nor beat the price. Either way a prompt professional response to your "Price Match" inquiry will be issued.